Panch Pokhari of Nepal is 9th highest altitude wetland in the world which lies in Sindhulpalchowk district of Nepal. The lake in Janai Purnima is a popular destination for Hindu and Buddhist pilgrims. Panch Pokhari is a group of 5 Hindu holy lakes in the Sindhupalchowk District of Nepal.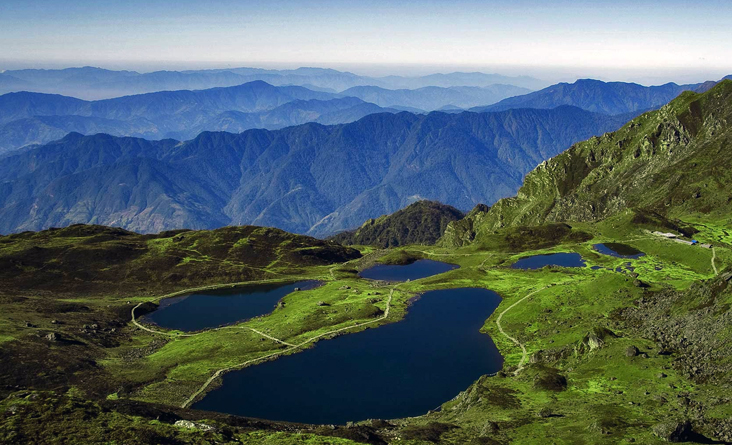 Panch Pokhari is one of the main features of Langtang National Park, located in the Nuwakot, Rasuwa and Sindhulpalchok districts of the central Himalayan region. The Government of Nepal's Postal Services Department issued a stamp featuring Pokhari in 2011.
             Panch Pokhara is situated at an elevation of about 4100m above sea level. This is a famous Hindu pilgrimage site in Nepal. Panch Pokhari trekking lies to the north of the Kathmandu valley; the chain of peaks called Jugal Himal that includes Dorje Lakpa (6966m) Madiya (6257m) and Phurbi Chhyachu (6,637 m). This is a remote and unfrequented region, despite being close to Kathmandu.
Panch Pokhari Trekking starts with a 5 hour bus drive from Kathmandu to Chautara of Nepal. Following Langtang National Park and Panch Pokhari our trekking ends at the Tatopani, situated on the border of Tibet. Panch Pokhari Trekking territory offers a mix of rich tradition and culture, unsurpassed excellence of Langtang Region. Our main destination is to trek up to Panch Pokhari which lies at an elevation of 4000m and visit the Langtang National Park.
This is the village near by Pach Pokhari. Life Dream Adventure and Expeditions trekking guide will show the beautiful spots for having an astounding view of mountains.